Agile product development collaboration
Electrification and autonomous vehicles are on the leading edge of transformation in the automotive industry. Manufacturers and their suppliers that digitize product development collaboration remain agile and successful. Anark's technical data collaboration platform securely connects everyone to the product information and expertise they need to improve collaboration, eliminate errors, and improve quality.
Automotive Supplier Benefits

Improve Supplier Collaboration
Supplier performance and satisfaction improve enabling concurrent engineering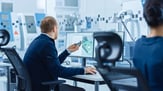 Eliminate Engineering Errors
Reduction of engineering errors that lead to scrap, rework and waste lead to cost savings

Improve Product Quality
Fewer quality issues during assembly or in the field will increase customer satisfaction
Solutions for Industry
Engineering Data Release
Improve collaborative design review cycle times, and manufacturing time to production by sharing and discussing technical data packages. Package, share, and discuss deliverables with customers.

Electronic Work Instructions
Author, discuss and deliver visual work instructions for internal manufacturing, contract manufacturing, and a variety of standard operating procedures.

Supplier Collaboration
Mark up, capture, share and discuss designs with suppliers in the context of the technical content. Everyone has the right information at the right time on any device.


Technical Content Collaboration
Watch the video to learn how Anark's solutions help create intelligent manufacturing collaboration across engineering, manufacturing and suppliers for automotive manufacturers.