Editors Note: This blog post comes from Anark's presentation at GPDIS 2023.
In the opening keynote of the GPDIS 2023 event, Adam Marshall of Boeing stated the importance of focusing on the people and collaborating across the supply chain. He also quoted a Seattle Times article that illustrated a pace of change problem: "young people coming into the industry are appalled to find they must fill out paper records instead of having everything digitized and accessible on their computers or phones." The message was clear: manufacturers need to go beyond connecting data between systems, and think about making the data accessible and actionable for anyone who needs it to do their job.
Product data interoperability standards and technology have made significant progress in automating the generation of machine-readable product data. These advancements power robust digital threads and comprehensive digital product definitions. But what about the people who design, manufacture, assemble and support product innovation? Why are so many manufacturing organizations with digital thread strategies still using file shares, email attachments, and chat tools to collaborate on technical product data and how they can finally connect their people to their digital thread? 
The State of Collaboration in Manufacturing
Lifecycle Insights recently released a study focused on the state of technical data collaboration across 200 manufacturers, which revealed the following: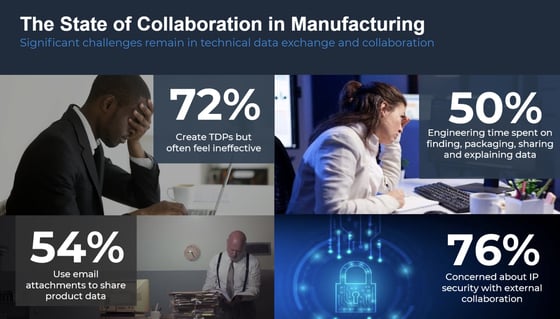 Sometimes we can look at studies like this and dismiss them as "leading the witness", but the more I talk to people about the findings in the study, the more I realize just how many manufacturers are dealing with this challenge. It's notable that the 50% of engineering time wasted above is actually the average. This means there are some engineering teams spending significantly more than 50% of their time finding, packaging, sharing and explaining technical data.
These results make sense when you ask people how they do this today, and realize how cumbersome the process is. This results in delivery delays, quality issues, scrap and rework, and poor supplier performance.
The Next Industrial Revolution Will Be Collaborative
There are a number of digital transformation forces pulling against each other. 1. Over the last few decades, manufacturing optimization has largely focused on data interoperability, standards, and machine-to-machine integration. 2. Systems like ERP, PLM, and MES have become more powerful for the power user, but too complex for everyone else. When's the last time you heard a supplier, or a sourcing manager say, "Just add me to the PLM system and I'm sure I'll be able to find just the data I need myself". The answer is never. 3. Electronic documents, email, and instant messages have become the standard for communicating most of the information in the world, but generally remain disconnected from the manufacturing digital thread. These forms of communication typically rely on siloed systems or individuals to track and manage themselves and have little or no context of the data being shared and discussed. ​
Why are manufacturers ok with this? Do they not realize how much money and innovation opportunity cost is being on an incomplete digital thread? Something has to change.
Technical Content Collaboration Tradeoffs
It's no wonder why the people in manufacturers, their suppliers and customers are disconnected from the digital thread: Companies are using a combination of tools and systems for digital collaboration, resulting in trade-offs that cost time and money (lost hours, repetitive work, and costly scrap/rework, etc.). Each of these has advantages and disadvantages.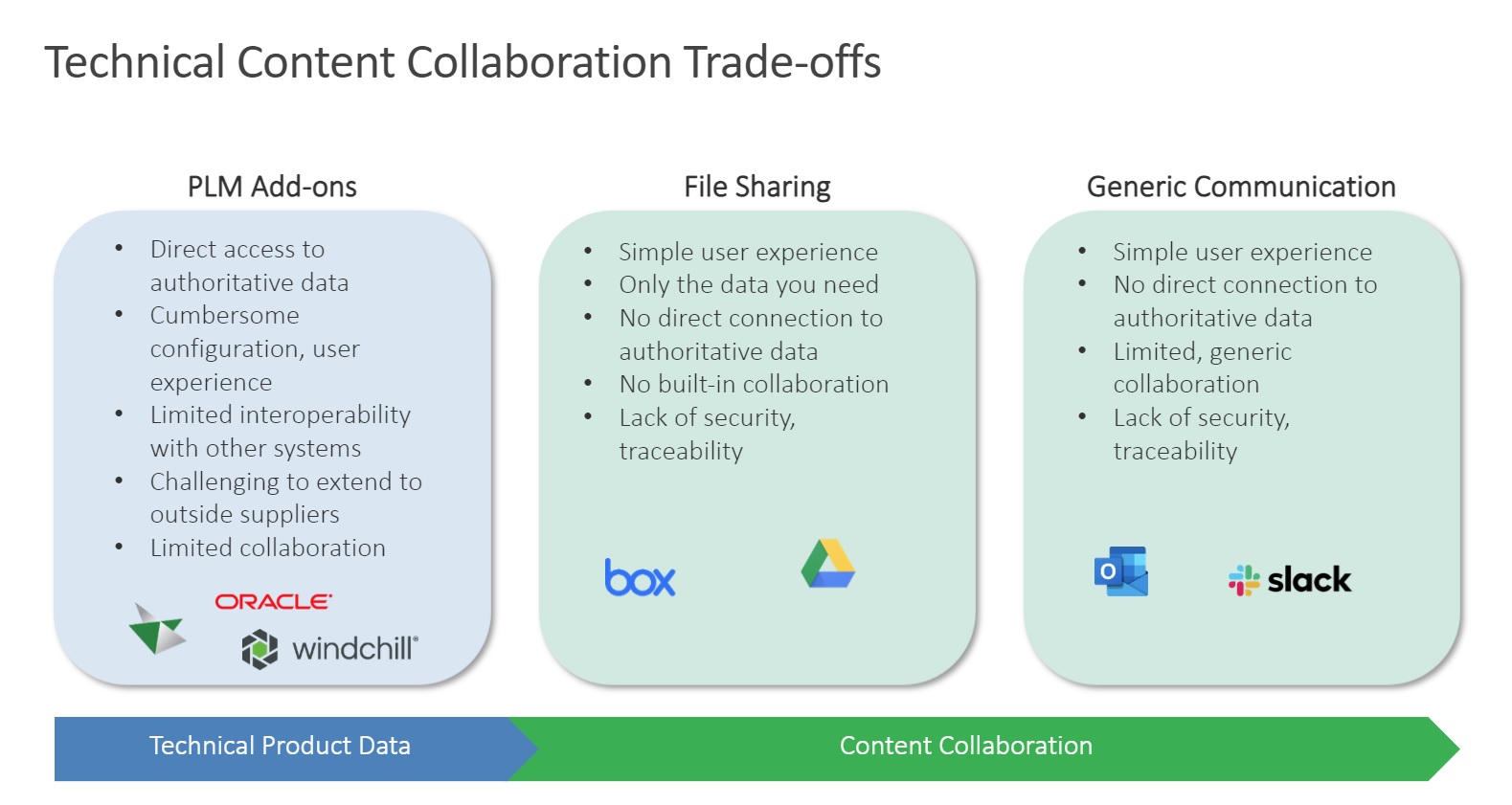 We're ~25 years into the PLM experiment, and for the most part it remains a specialized application that engineers use for product data management. Likewise Manufacturing and Ops teams have their specialized ERP and MES systems.​ Supply Chain and Procurement teams have their specialized SCM tools.​ Service has their specialized software. ​
But all these people have one common goal and challenge—work with each other to deliver innovative products. But the product data they are discussing is not integrated with the collaboration tools they use to work with each other every day. Why is that? ​
A common answer is that companies are focused more on the data, but not on making their people better at their jobs. ​But that can't be THE answer, can it?
At Anark, we combine the convenience of file-sharing apps with the simplicity of communication apps in a system that understands your technical product data. As a result, your product data becomes accessible, actionable, and synchronized with your version-controlled "source of truth" --no matter where your experts hide it. When you automate the process of finding, packaging, and sharing all required technical data, you can effortlessly access, mark up, and discuss 3D CAD, BOMs, and other product data in fully traced discussions. When these things happen, everyone, can communicate and collaborate without compromise, better, faster decisions are made, and you can innovate faster.​
We help companies move from file-centric manual collaboration practices to automated data-centric collaboration. This maturity model is based on 10+ years working with customers and provides a path forward. We have a simple desktop solution (Anark Workstation) for simplifying the creation of 3D PDFs that can be up and running in days not weeks.
Most companies we work with are looking for a technical data collaboration portal, bringing the data and conversations in a modern digital collaboration experience. Anark Collaborate offers just that and can be up and running in a day as a cloud SaaS offering (we also offer on-premises, private cloud deployment that takes more time to install and configure). We also offer integration and automation capabilities with Anark Publish that synchronizes with your PLM-managed product data. For those that need Anark Publish, we recommend getting started right away with Anark Collaborate to prove the value of a modern collaboration experience, while Anark Publish is configured with your existing systems. ​
Why Choose 3D PDF TDPs?​
Vendor agnostic solution to deliver engineering and manufacturing information to those that don't have access to vendor specific toolchains​
Ability to visualize and collaborate upon digital product definition/MBD in vendor agnostic manner​
Ubiquity of Adobe Reader​
PDFs already popular as release artifacts for 2D Engineering Drawings​
PDF TDPs are like "fancy zip files" IOW ability to add numerous additional artifacts to facilitate the distribution of related information​
Program/Contract deliverables (CDRLs) ​
Why Choose web-based (HTML5) TDPs​
​Anark has been developing cutting edge solutions based on Model Based Definition initiatives and Technical Data Package (TDP) approaches, within the context of 3D PDF since the mid 2000s.​
MIL-STD-31000B was the result of work since 2008 between industry and government to define a TDP as the authoritative technical description of an item that can support U.S. DoD acquisition, production, inspection, engineering, and logistics. This can include required design configuration, performance requirements, and much more.​
As part of the MIL-STD-31000B 2018 update, 3D PDF was added as a recommended option for a TDP format. Anark's 3D PDF is in Appendix B ​
Anark has proven capabilities for publication of MIL-STD-31000B 3D PDF Technical Data Packages.
What problem does this solve? Exchanging technical product data one file at a time is a costly, time-consuming nuisance that results in errors, scrap, and other avoidable costs. Zip files and generic file sharing platforms aren't much better. The research above shows that 72% of discrete manufacturers feel their process of creating and sharing technical data packages (TDPs) is ineffective. Not surprising when more than half of those companies report that they still use email attachments to share product data. This common problem is a result of tools that don't contain all the product data needed for effective technical content collaboration. ​
​How does Anark Collaborate solve the problem? Anark Collaborate Content Items contain the product data you need to optimize technical content collaboration within your manufacturing operation. Procurement, sourcing managers and other buyers need the bill of materials (BOM), part numbers, drawings, 3D visualization and related documents. Manufacturing operators need product manufacturing information (PMI), and related machine-readable attachments like QIF. Engineers need to exchange STEP files and other neutral formats in addition to the 2D and 3D CAD. Service teams need technical documentation, drawing packages, and 3D visualization. Whether you need a standard package template for everyone, or specific package templates for various roles, Anark Collaborate brings it all together, synchronized with your version control. And consuming the data is as easy as opening a web browser on any device to access visually rich product data. Improve supplier collaboration, manufacturing, and service operations, simplify data sharing, quickly deliver design packages to customers, and innovate faster!
Ready to learn more? Let's Talk!