Intelligent Supplier Collaboration
Optimize supplier performance, responsiveness, and collaboration by connecting your supply chain to your digital manufacturing thread. Empower supply chain and procurement leaders with supplier visibility from early sourcing through manufacturing and delivery.
See the customer spotlight of GE Gas Power and how they are effectively leveraging Model-Based Engineering data across their extended supply chain.
Improve Supplier Performance
Quickly and efficiently prepare model-based technical data to share digitally with suppliers, in a secure environment
Reduce response times for RFx processes by automatically sharing all pertinent information in a collaborative space
Remove interpretation errors, versioning issues and time spent deciphering information through visual information
Improve Supplier Forecasts
Eradicate production delays by addressing supplier questions quickly and collaboratively in real-time chat
Understand supplier performance from early RFx through delivery with real-time collaboration tools
Gain greater visibility into production delays in real time, and resolve collaboratively
Improve Quality, Reduce Risk
Suppliers immediately understand all required tolerances from digital data
Shop floor staff communicate quality and measurement feedback in a secure, collaborative environment
All teams immediately have access to and can understand critical QA characteristics in the correct model-based information
Transforming GE Power's Digital Supply Chain
"With Anark our error rate has gone down to 5% to 10% which is much lower than it used to be." -Kena Yokoyama, Engineering Manager for Product Definition, GE Gas Power. Hear an excerpt of Kena's success story, and access the full interview below.
Anark Core Solutions for Intelligent Supplier Collaboration
Anark Core enables companies to deliver dynamic work packages, visual work instructions and real-time collaboration to its suppliers to optimize manufacturing operations. Download the Anark Core datasheet and explore Anark Core Workstation, Server and MBEWeb to learn more.

Automatic RFx Data Exchange
Automatically source, assemble and publish files and model-based information from multiple systems of record to power highly efficient early sourcing activities.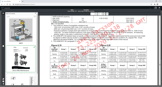 Secure Extended Access
Digitally release all required technical content to your suppliers and internal teams with multi-layered security that protects your IP while streamlining collaboration.
Real-time Collaboration
Activity based collaboration means your people and your suppliers discuss progress in the context of their work before they become delivery delays or quality problems.
Contact Us
For more information about how Anark Solutions can transform your business, please contact us.