By Andrew Crowley
Have you ever been watching one of those trivia or puzzle-solving gameshows where the answer is seemingly obvious, but the contestants can't quite figure it out? It almost makes you want to scream the answer at your TV! At Anark, we feel this way when we see manufacturers and their suppliers struggling to solve their challenges – including the delivery of innovative products on time, on budget, and most importantly, with little to no miscommunication, scrap, or rework.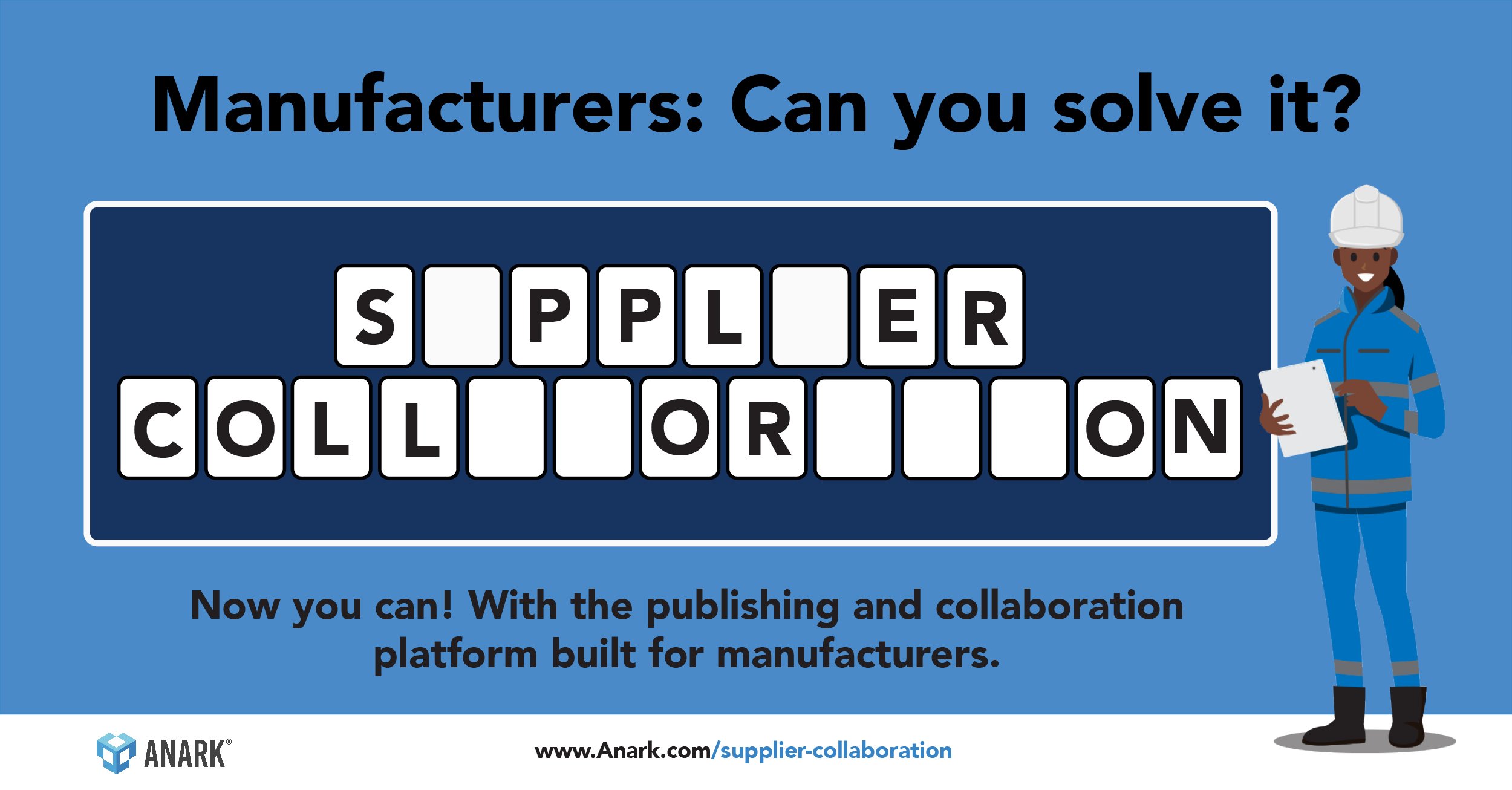 Here is how Anark solves the puzzle:
"S" - Suppliers get instant, barrier-free access to product data with markup tools, drag-n-drop file-sharing, and real-time chat to collaborate without compromise.
"E" - Engineers share complete, up-to-date product data packages with procurement and suppliers without the data repackaging problems.
"P" - Procurement and Sourcing Managers search, find, and share up-to-date product data to simplify the collaboration process.
"L" – Limit clunky technologies that don't understand product design data - it's time to stop recreating versions of design files using a combination of sub-par exports, screenshots, and Office documents; throwing product data "over the wall" via generic file-sharing; forcing suppliers and procurement to use PLM to access shared content; and resorting untraced email and attachments because the other methods are too cumbersome.
"R" – Reassure your boss with improved business performance and quality by collaborating in one singular platform that connects engineering, manufacturing, procurement, sales, service, customers, and anyone else who needs always-up-to-date product data.
"N" – Never settle for the supplier collaboration communication frustrations that result in significant lost time: Share the data, send the data, ask for an update, wait for a response, answer a question, recreate a different view of the data, share the data again...repeat.
"C" – Create new collaboration workflows that are connected and efficient, versus workflows where important information gets lost in the shuffle of tools not connected to a digital thread (emails, phone calls, side conversations, chat messages etc.)
"U" – Unlock the potential of the shop room floor and suppliers to become innovation centers that contribute to the success of your business, rather than distract from it.
"T" – Technical Data Packages (TDPs) collect always up-to-date information from one or many source systems for easy sharing with suppliers. The right information to the right people at the right time.
"A" – Automate the finding, publishing and sharing of technical data so you and your team members don't have to.
"I" – Integrate CAD and PLM systems with your supplier collaboration process, and collaborate with the confidence that the correct version of 2D drawings, 3D models, bill of material (BOM) information, and any other product data is securely shared so anyone can access it on any device.
"B" and "O" – Business Outcomes are one of the primary reasons manufacturers are making the switch to Anark. So, what kind of business outcomes can you expect?
50% of engineering time freed up by automating the packaging and sharing of data.
40% reduction of engineering errors by collaborating in the context of shared technical data.
90% reduction of supplier interaction time by automating Technical Data Packages (TDPs) publishing.
30% savings on annual parts fabrication costs by sharing 3D-enabled TDPs vs. 2D models alone.
Solved!
The answer to your collaborative challenges from procurement to the shop floor to your customers and everywhere in between is Anark's Supplier Collaboration Solution.

Ready to learn more? Download the Data Sheet.

Want to see it in action? Request a Demo.