If you use 3D PDF and have installed either 32-bit (Acrobat/Reader) or 64-bit Adobe Acrobat to open the rich and interactive documents from Anark, you may have seen recent changes as part of the Adobe continuous release process that could impact the quality and performance of your 3D PDF/3Di documents. In this post you'll find a brief history of 3D PDF to set the context, a breakdown of 32 vs. 64-bit Adobe Acrobat, a brief overview of what's available beyond 3D PDF to help you guard against issues like this in the future and information of what can be done to optimize your 3D PDF viewing experience today.
This communication is intended to update the posting on this topic from December 2022 now that Adobe Acrobat/Reader 32-bit Windows support is ended, and updates to 64-bit Acrobat have progressed.
A brief history of 3D PDF
3D PDF has been used for 17 years as a standard for communicating manufacturing information to anyone with either Adobe Reader/Acrobat. It dates back to 2005 and the U3D (Universal 3D) standard that was agreed upon by a number of manufacturers, including Boeing, an Anark customer. Since the 2018 release of MIL-STD-31000B, 3Di documents have been a recommended format for packaging technical data packages. 3Di is simply the MIL-STD-31000B terminology for 3D PDF and a sample 3Di from Anark is included within the MIL-STD-31000B documentation. 3D PDF adoption has expanded significantly within government contracting for the delivery of technical data.
While 3D PDF remains a useful technology for communicating engineering design and manufacturing information across the supply chain, it is a file-based solution with file-based limitations that are dependent on the Adobe and Microsoft software update process. This includes the ability to support the proper versions of DirectX as the set of components in Windows, that allows Adobe to work directly with video hardware and optimize how 3D PDFs are displayed.
Anark Supports 3D PDF and Beyond
Anark continues to fully support 3D PDF publishing and viewing for everyone from small medium manufacturers working with the US DoD (Department of Defense) to large model-based enterprises with complex MBD (model-based design) requirements. But we also recognize the need to go beyond the limitations of a desktop file-based solution, as does the US DoD. Web-based TDPs shared through a content collaboration portal remove those limitations, making data securely accessible and actionable for everyone involved. Advantages of web-based content collaboration include:
Browser-based visualization of multi-data TDP content: BOM, lifecycle information, 3D, 2D drawings, documents, images, video
Fully traced communication, contextual collaboration (markups and chat in the context of the shared design data), and file sharing
Mobile-first user experience supporting paper-less access on any device
Version-controlled integration with authoritative sources so you're always looking at the right version of data
Advanced access-control and security features unavailable with a file-based approach
Streaming web content with dramatically improved load times
Ability to host and control downloading of ANY type of document, including 3D PDFs! You can publish and securely host Anark 3D PDF documents with Anark Collaborate as part of a unified publication and data control process.
Web based Technical Data access stays up to date with the latest modern browser performance, display and security improvements. Desired updates to technical data presentation in the future can be refreshed via web presentation template updates that likely will not require complete re-publication like file based technical data packages.
Adobe Acrobat 64-bit 3D PDF Support Updates
In December of 2022, Adobe did not support hardware acceleration for 3D model viewing in the 64-bit version of Adobe Acrobat due to Microsoft dropping support for DirectX 9. 32-bit Adobe Acrobat/Reader was working properly at that time. At the top of 2023 support for Windows 32-bit has since been formally ended by Adobe, recent Anark testing of Adobe Acrobat 64-bit has found that it will work properly, uses hardware rendering, and provides the performance advantages of 64-bit.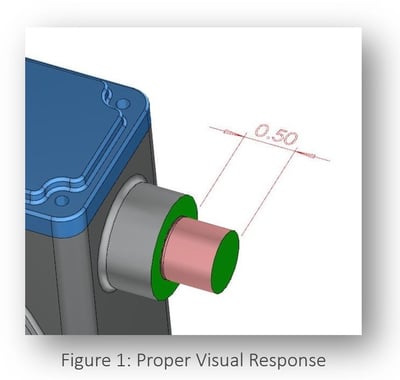 Using 64-bit Adobe products where 3D models depend on software acceleration to work with larger datasets will now render at a fast pace.
Beyond 3D viewing performance, 64-bit users will also maintain associativity with their models. When selecting a 3D dimension, the corresponding associated 3D features should highlight to give instant visual feedback. This is called visual response (shown in Figure 1) and is required by ASME Y14.41 standard such that any annotation must have this type of capability to understand where the annotation is applied as is shown in this example of a dimension highlighting the associated faces.
What are the best steps to view 3D PDF documents
Adobe is supporting both 32-bit and 64-bit applications going forward on Windows 64-bit devices and there are some settings and additional installations needed that will make it work properly. A first step is to download and install the 64-bit version of Adobe Acrobat. Before the 64-bit version can be installed, all 32-bit versions of Acrobat and/or Reader must must be removed from the Windows device.
After the installation of Adobe Acrobat 64-bit is complete, in order to use DirectX 9 for hardware graphics accelerations, which is the current situation, DirectX 9 must be installed also.
When the installations are complete, some simple preferences must be set for 3D PDF's to work properly:
1) - Enable JavaScript such that the rich, dynamic behavior of Anark created 3D PDFs can be experienced: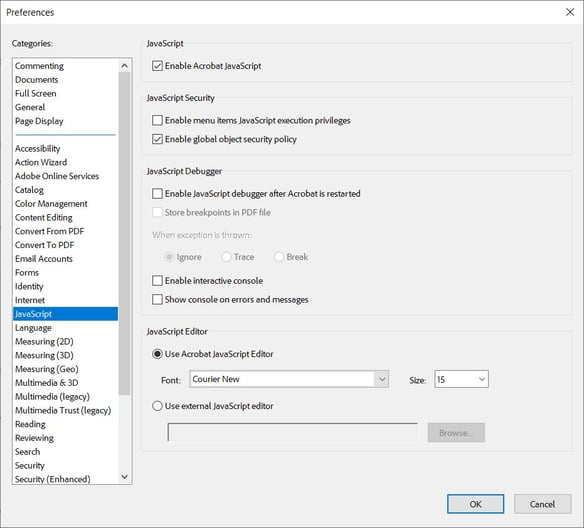 2) - Enable Multimedia and 3D Options, Enable Hardware rendering and toggle to use DirectX 9, Enable Double Sided Rendering: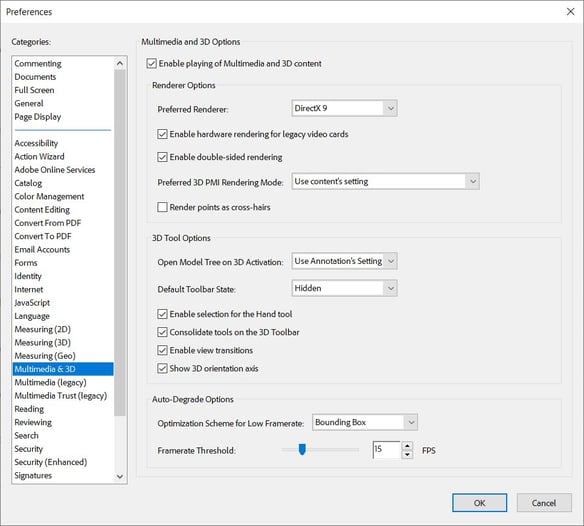 3) - In order to assure that cross highlighting between GD&T and related geometry works properly, Security (Enhanced) options need to be set properly also and this involves de-selecting the "Enable Protected Mode at startup" option: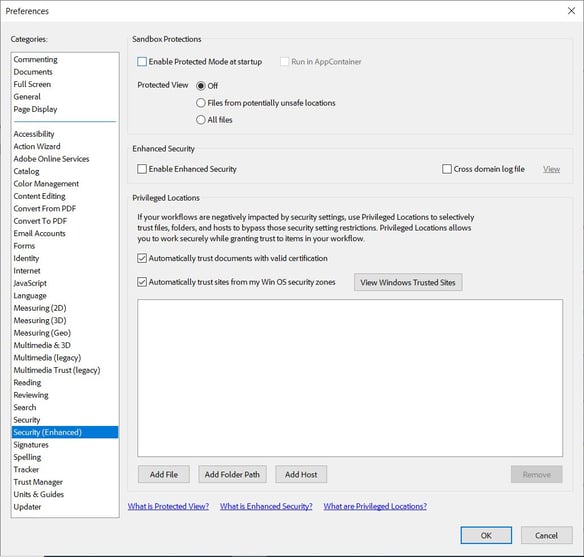 With the use of Adobe Acrobat 64-bit, DirectX 9 and some simple options, you should be able to see better performance than what was available in the 32-bit Adobe products. Anark publication processes to create 3D PDFs have not changed other than to take advantage of the latest Adobe Acrobat versions. There are potential adverse implications of using DirectX 9 since this is a very old technology. This is a Adobe decision at this time but, Anark has the expertise to guide you though any issues you are seeing with the performance of your 3D PDF documents.
Better yet, if your organization is at a point where a file based approach to creating Technical Data Packages is not needed, now might be the right time to consider web-based TDPs so you can move beyond the limitations of a desktop file-based solution with all of the related dependencies on software and libraries that will continue to change over time.
For more information, please Contact Us.
More information from Adobe directly:
How to uninstall and reinstall Acrobat
Download DirectX 9 to render 3D files in Acrobat and Acrobat Reader
More information from Microsoft directly:
Microsoft DirectX End-User Runtime
DirectX 9 and Windows 10 Discussion - Please confirm with your IT department