October 31, 2023 - Anark is pleased to announce that Release 4.5.80 is now available and includes new features, enhancements, and updates based on customer feedback and industry demand. Additional information can be found in the release documentation. Releases occur every 4-6 weeks and can be immediately applied to SaaS or On-Premise environments. Together with early access to PLM and CAD partner releases, our agile release process delivers continuous value improvement to our customers.
Anark release 4.5.80
Anark Collaborate Enhancements:
A new rich text editor has been implemented for the text input fields located in Activities, Work Items and Data Markings (Content Markup Text). Anark Collaborate already had rich text for Comments. It now expands to technical content markup text to enhance communication and collaboration in the context of the technical data by bringing markups to life in the way we all work.

Did you know that Anark Collaborate is designed with an API first approach? While the focus on the user experience is important, all Anark Collaborate capabilities are also available via APIs that can be automated. With this latest release API endpoints are added to support deleting a component of a content item. If you have repeatable actions you need to do in Anark Collaborate involving creation or modification of content, activities and more, let us know how we can help you become more efficient.

Anark Workstation Enhancements:
Anark Workstation continues to be the tool of choice for authoring reusable recipes that create web-based technical content and 3D PDFs, or power repeatable publishing automation using Anark Publish connected to your PLM and CAD tools. In this release we updated annotation text display to improve display in process sequences, a feature that is important to our users that generate Work Instructions.
CAD Integration Enhancements:
NX Adapter: The NX CAD adapter was enhanced to include additional information associated with PMI attributes such that the original NX "raw" definition of the attribute included along with the attribute. Additionally, identifiers have been added by attaching new attributes that retain persistent IDs such that NX entities, including PMI, can be precisely validated from the authoritative NX CAD models to derived formats such as 3D PDF. This enhances processes such as those specified within MIL-STD-31000B to validate Technical Data Packages.
SolidWorks Adapter: The SolidWorks Adaptor has been updated to support additional MBD use cases and improve part file import performance.

CATIA Adapter: Anark supports an assortment of legacy and modern CATIA formats. Improvements were made for publishing a subset of font symbols that were displaying incorrectly in PMI data. These are now publishing correctly.


PLM Integration Enhancements:
Anark Teamcenter Integration: Our Teamcenter customers have asked for improved error logging in the Teamcenter dispatcher client and module logs, and we've listened. Now you can isolate any translation concerns via dispatcher logs for Teamcenter 12.
We also improved the display of the CAD dataset in package publishing user interface as related to naming rule filters that were excluding CAD datasets. This update will enable users to utilize file extensions as a way of filtering data in Teamcenter 12.
Our integration also supports Teamcenter 13.x and 14.x. For specific features, please see the release documentation.
Anark Windchill Integration: Our Windchill Integration leverages Windchill Packages to take advantage of the visual Collector, making it easy to define the information that gets published to Anark Collaborate technical content.
For this release, the following updates were made:
Email notification when only the parent object (individual object publishing) is published (without flat/ hierarchical structure).

Calculating 3DPDF file size for reporting, when the staging directory is UNIX based.

Workflow data extraction when the EPMDocument does not have a WTPart associated with it.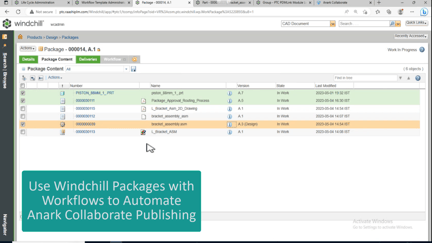 For more information in this or any previous releases Contact us.
Current customers can use our Support Portal.