A

model-based supply chain

leverages high fidelity engineering data that

includes all required, technically accurate product manufacturing information (PMI); including (but not limited to) GD&T, component level materials, assembly level BOMs, and configuration specifications.
Discrete manufacturers who want to secure their ability to be a player in the supply chains of the future need to prioritize making data accessible and shareable at scale.
Here are three reasons why.
1.
The demand for data all across the supply chain is sky high.
Supply chain disruptions during the pandemic brought 'supply chain risk' under the microscope. Everyone from OEMs to governments to start-ups to venture capitalists are now pouring resources into establishing best practices and solutions for understanding and profiling risk.
Wherever risk is discovered, an immediate demand for better data, transparency and insight follows. The implication for manufacturers is clear: access to data and supplier visibility will be a key requirement for any player in any supply chain in any industry going forward.
2.
Your current system for sharing data and collaborating has gaps.
Going purely on odds, it's almost a certainty that your existing process has gaps in it that you're not aware of. For example:
data is missing;

files are being shared in ways that go against your own policies;

information exists in someone's hard drive, or email inbox, and nowhere else; and

there are numerous systems designed to work together in ways that only a handful of people truly understand.
In more than 200 assessments of discrete manufacturing operations spanning 15 years, we've found that big discrepancies between how solutions are built versus how they're actually being used occur 82% of the time.
3. You don't need a fully mature model-based system in place in order to security share high fidelity data and insight.
Research shows that strategies leveraging a minimally annotated 3D model combined with other product data are the most successful at reducing engineering change orders (ECO).
Value can be achieved by simply sharing 3D and 2D visuals along with other existing documentation in technical data packages (TDPs).
How? By automating the publishing and sharing of file-less CAD and non-CAD content, giving everyone who needs it access to the latest, officially-released models and data – as a secure snapshot of federated information at that point and time.
Connecting people across the value chain to engineering data – and the engineers responsible for it – can have huge impacts on the bottom line. The technology for achieving this is already here, and had been proven successful within many enterprises and industries.
For an excellent primer on how to get started, get our new eBook, How to Leverage Model-Based Engineering Data Across Your Supply Chain with Half the Cost (And None of the Fear).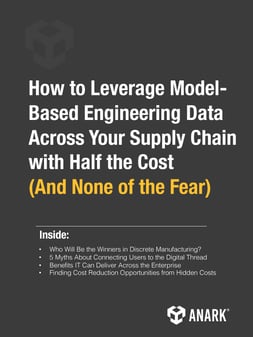 *No form to fill out, just free
Want to discuss this topic? Leave a comment below.